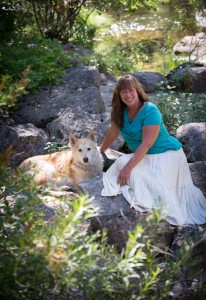 Holistic Emergency Care and Trauma Recovery for Animals book
Author's Note
From a very young age nature has been my friend, constant companion and teacher. The voice and power of the Divine through nature's kingdoms has been ever present in my awareness. These voices speak so clearly of the Universal truth that the question and the answer are created at the same time – no matter the topic. Thus in trauma, injuries and illness the means to correct them is always at hand in the energetics of nature and as direct energy from the Divine.
Early traumas resulted in imbalances in my body displaying as asthma and allergies. My parents were naturalists, but they had little natural medicine awareness beyond aspirin and basic vitamins from fruit and vegetables.  Therefore, my treatment was allopathic/drug based, masking the symptoms and further depleting my immune system to the point of collapse over time.  As a result, I spent my childhood physically compromised, but gratefully I retained my quick and inquisitive mind and ever present connection to the Divine.
The weakened state of my body was utilized by my Spirit to make me into a keen observer and listener in quiet presence. It was in the quiet that the Divine promptings of how to heal myself would come. And it was in this quiet space that I also heard the promptings to study first aide, emergency response, mountaineering medicine and all the holistic modalities that overtime became tools that I relied upon for myself, family and clients.
When I asked the Divine why it was so important for me to study emergency response and natural healing together, I was told that someday, with the assistance of others, I would share this wisdom and techniques with the world in a new format, and many – both human and animals would be blessed by the wisdom.
Although I have been teaching classes and doing consultations for years, Holistic Emergency Care and Trauma Recovery for Animals (HECTR4Animals) is the first of my publications containing the in-depth wisdom that I have gained over the years.  I know in my heart that given the opportunity this wisdom can create a much more expanded, harmonious and empowering tool set for lay people and professionals alike when assisting animals and humans in emergencies, illness and trauma recovery.
It is the destiny of HECTR4Animals and Humans to be utilized in trainings worldwide – both in person and online. For more information follow our websites: www.holisticemergencycare.com, Earthwise.Institute, or www.kathrynshantiariel.com .